Practice Facility
*Hours of Operation (weather permitting) 
*Mats Only Until Further Notice
*Last Bucket Will Always Be Sold 30mins Before The Close Time
Monday 6:00am – 7:00pm (clean pick)
Tuesday – 10:00am – 10:00pm (morning maintenance)
Wednesday – Sunday – 6:00am – 10:00pm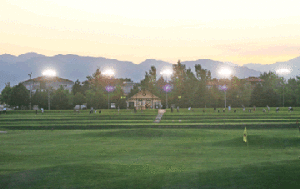 Located south of the Golf Courses, the lighted Practice Facility features five grass tiers and one mat tier (for off season/wet conditions), three practice sand traps, four regulation target greens at 120, 175, 215 and 265 yards and a practice bunker. The facility is fully lighted for night use.
ATTENTION GOLFERS: DRIVING RANGE HOURS – Adjusted Seasonally. Lights will be turned on weather depending starting May 1st. Times are subject to change without advance notice. Codes are available at the Golf Shop or you can use a credit card at the Range Building. *Range is closed for mowing Tuesday mornings until 10:00am.
An 18,000 sq. ft. practice green and a practice chipping green are located next to the Golf Shop and a practice bunker is located near the chipping green.