Junior Golf
2022 Greg Mastriona Golf Courses @ Hyland Hills Junior Golf Program Summary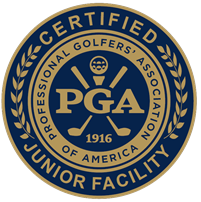 The Greg Mastriona Golf Courses at Hyland Hills will be taking registrations for 2022 Junior Golf Program in Mid-April . Registration takes place online Here by clicking the link provided. Juniors aged 7-17 are eligible to participate. Each of the nine 5-day program sessions will include daily lessons by Hyland Hills' instructors with a low student to instructor ratio to ensure quality, individualized attention. The cost for each one week session is $60 for residents and $70 for non-residents. Additional benefits of the program include complimentary play (please present the junior golf card you received at registration in the golf shop prior to play) on the Hyland Hills North Par 3 for both the junior golfer and his or her family, and special junior golfer rates on the Gold, Blue and South Par 3 courses. Additionally, the District has added 6 special evening sessions in consideration of working parents. Attached are the dates and times for each of the nine 5 day sessions.
JUNIOR GOLF WEEKLY TOURNAMENT SERIES
The tournament series is designed to be an extension of our yearly junior golf instructional program. The series gives all junior golfers the opportunity to play and compete on a weekly basis throughout the summer and golfers will be organized by age and skill level.
Mondays; Jul 11, 18, and 25.
Advanced Ages 14-17, 8am; Blue Course
Intermediate Ages 11-13, 9am; SP3 Course
Beginner Ages 7-10, 10am; NP3 Course
Junior Green Fees: Blue Course $8; South Par 3, $4; North Par 3 $4
Call the Golf Shop to register 1 week in advance, 303-428-6526
KIDS PLAY FREE!
Kids Play Free when accompanied by a paying adult, M – Th after 4pm on the Blue Course (minimum age of 10) M-Th anytime North or South Par 3 (no age restriction).